AN ACCOUNT OF NEGERI SEMBILAN
KARMA KAGYU DHARMA SOCIETY BUILDING FUND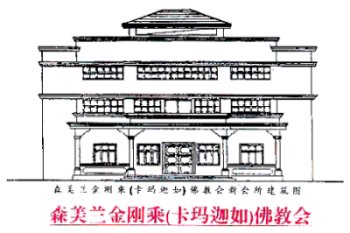 Front View of the New Society Building

ur Society was founded on 26/8/1979 and has been able to progress rapidly with the co-operation of the Committee, support and advice given by venerable monks, government officials, the public and devotees. Now we have a membership of 310 and the Society is now a well known active Buddhist centre in Negeri Sembilan.
Tibetan Vajrayana Buddhism (Karma Kagyu) belongs to the Mahayana teachings of Sakyamuni Buddha. Karma Kagyu Lineage is one of the four main sects of Vajrayana Buddhism. It originated from Tilopa and its unbroken lineage has been in existence for more than a thousand years now. The main practices in Karma Kagyu are Mahamudra and the four tantras.
Our Society was officially registered in 1984. Owing to the increase in activities and membership, the present premises is not sufficient for use. Thus, the Committee plans to have its own building. This is also the common sentiment of members.
In 1990, a generous housing developer donated a piece of land of about 30,000 square feet situated at StarLight Garden, Seremban to our Society for the construction of our building. It was with the help of our Committee Members and the Members of Parliament and State Assembly that the land was approved by the Local Council for religious use. After that we began planning for the building of the Society's building. The building plan has now been approved by the Local Authority and we can now begin construction. At present the piling work has completed, but as it is a major architectural endeavour, the estimated cost of construction and furnishing will come to RM 1.5 million (Approx. US400,000).
Since ancient times Buddhism spread far and wide. It has been due to the efforts of the devotees to build the temples and centres. We hope all devotees and public will donate generously so that the construction can be completed early. With your generosity you plant the good seeds of great merits. Future generation will benefit immensely from this project. When the building is completed, we will fully utilise the premises to propagate the Buddha Dharma to benefit all sentient beings. This will also contribute towards the nation's peace, progress and well being.

6 July 2003 - Piling Work Of The New Society Building


30 July 2003 - Piling Work Of The New Society Building

Your immediate contribution is greatly appreciated.
For further information please contact the Committee of TABUNG WANG BANGUNAN.
| | | |
| --- | --- | --- |
| President: | Mr. Lee Geok Lin, KMN. | Tel: 606-7622339 |
| Secretary: | Mr. Wong Khian Voon, PMC. | Tel: 606-6012144 |
| Treasurer: | Dr. Siow Lee Ping | Tel: 606-7635828 |
Please direct all correspondences to the following e-mail addresses:
wongwm2@myjaring.net or
vajras@lycos.com
Please make all Cheques payable to:
TABUNG WANG BANGUNAN
PERSATUAN KARMA KAGYU DHARMA N.S.D.K.
1721, TAMAN TUAN SHEIKH,
JALAN RASAH,
70300 SEREMBAN,
NEGERI SEMBILAN DARUL KHUSUS,
MALAYSIA.
or
Direct contribution to account holder:
Account Name:
TABUNG WANG BANGUNAN
PERSATUAN KARMA KAGYU DHARMA
NEGERI SEMBILAN DARUL KHUSUS.
Account Number:
351-422415-001
Name Of The Bank:
Hongkong Bank Malaysia Berhad