The Healing Buddha
A Practice for the Prevention and Healing of Disease
Translated and composed by Lama Thubten Zopa Rinpoche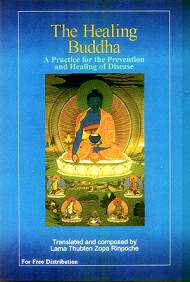 Contents
The Healing Buddha
- Introduction
- Motivation
- Meditation
- Dedication
- Healing Your Mind and Body
The Prayer Liberating Sakya from Disease
Introduction

If you love and really wish to bring happiness to yourself and others and want to enjoy life and all success as well, it is very important for you to open your heart and mind.
Study and analyze philosophies and religions with which you may not be fimiliar, such as those from the East - especially those that teach about the mind. In Buddhism, for example, you will find incredibly clear and complete explanation of both how the mind causes suffering and how it can be trained to eradicate both suffering and its cause. These teachings give you the chance to be completely free from death, rebirth and all other problems forever.
It is very educational to observe just how many people spend their time compiling statistic on things such as the incidence of goiter in a particular country. If there is value in this kind of study, how much greater must be the value of studying philosophies and meditation techniques that contain complete and unmistaken descriptions of the nature of the mind, the cause and cure of illness, and how to escape from suffering forever.
In the West, the mind is still being studied and its parameters defined, and the definitions in vogue today will change with further study. However, since the definitions of the mind given by the Fully Enlightened One Encompass every aspect of its existence, there is no need to review and update them. The Buddha's teachings on the mind explain the basis, the path, and the result of everlasting happiness, and by studying these teachings you can bring great happiness to yourself and others. An ever-growing number of open-minded, well-educated people from both East and West is finding such study extremely beneficial, and I encourage all the pursue this line of inquiry.
The practice contained in this booklet is that of the Healing (or Medicine) Buddha, a fully enlightened being, and the reason for undertaking it is clear and simple. When you are sick, it doesn't matter what your doctor calls the disease - as far as your happiness is concerned, the most important thing to do is to find a cure, especially one that has no side effects. Instead of getting caught up in complicated labels and theories, simply visualize the Healing Buddha and practice this meditation, whose purpose is to cure the illnesses that you might be currently experiencing, while preventing the onset of any other. It is best done at dawn, but you can also do it whenever else you like.
Motivation

No matter what you do, it is essential to generate a positive motivation. Therefore, think as follows:
"The purpose of my life is to free all living beings from all their problems and the causes of these problems, which are in their minds, and to bring all beings peace and happiness, especially the peerless happiness of full enlightenment, which they desperately need. For me to be able to do this, my mind and body must be perfect, pure and healthy. Therefore, to benefit living beings equal to extent of space, I am going to practice this healing meditation."
Meditation

Visualize yourself in your ordinary body, with your heart at the center of your chest, inverted, pointing upwards. Inside your heart is a white, eight-petalled lotus. At its center is a moon disc, upon which is seated the Healing Buddha in the aspect of the supreme transformation. His holy body is clear and in the nature of dark blue light, and he holds an arura plant in his right hand and a begging bowl in his left.
In front of the Healing Buddha is the white medicinal goddess, Actualized Wisdom; to his right is the yellow medicinal goddess, Simultaneous Wealth; behind him is the red forest goddess, Peacock's Throat; to his left is the green tree goddess, Radiant One. Each goddess is in the nature of blissful radiant light and has one face and two arms. An arura plant is in each goddess's right hand, with a vase adorned with various ornaments in the left. The four goddesses sit cross-legged, not in the full vajra position but in the aspect of offering respect to the Healing Buddha.

Then make this request:
O Destroyer, Complete in All Qualities and
Gone Beyond and you four medicinal goddesses,
please pacify immediately the illnesses that
afflict me now and help me avoid all future
sickness.
Light rays of the appropriate colour emanate from each of the five deities at your heart. Your heart and body are full of blissful light, which completely purifies all disease, spirit harms, and negative actions and their imprints. Beams of five-coloured light radiate from all the pores of your body, while nectar flows down from the Healing Buddha's begging bowl and the vases held by the four goddesses, completely filling your heart and body. Generate the strong recognition that you have vanquished all disease forever and will never be sick again.
While concentrating single-pointedly on this visualization, recite the short or long Healing Buddha mantra seven, twenty one, one hundred and eight, or more times.
Short Healing Buddha mantra
TAYATHA / OM BEKANDZE BEKANDZE /
MAHA BEKANDZE RANDZE /
SAMUNGATE SOHA
Long Healing Buddha mantra
OM NAMO BHAGAWATE BEKANDZE /
GURU BENDURYA PRABHA RANDZAYA /
TATHAGATAYA /
ARHATE SAMYAKSAM BUDDHAYA / TAYATHA /
OM BEKANDZE BEKANDZE /
MAHA BEKANDZE RANDZE /
SAMUNGATE SOHA
If you are sick, after you have finished reciting the mantra, put some saliva on your left palm, rub it with the tip of your right ring finger, place the tip on this finger at the entrance of your right and left nostrils, where the so-called All-Doing King Nerve can be found, and apply the saliva to the afflicted parts of your body. Then recite as many mantras of the Sanskrit vowels and consonants as possible, along with the mantra of the Heart of Dependent Arising.


Sanskrit vowels
OM A AA I II U UU RI RII LI LII E AI O AU
AM AH SVAHA
Sanskrit consonants
OM KA KHA GA GHA NGA /
TSA TSHA DZA DZHA NYA /
TA THA DA DHA NA/
TA THA DA DHA NA/
PA PHA BA BHA MA/
YA RA LA VA/
SA SHA SA HA KSHA SVAHA


The Heart of Dependent Arising
OM YE DHARMA HETU-PRABHAVA HETUN TESHAN
TATHAGATO HYA VADAT/
TESHAN CA YO NIRODHA / EVAM-VADI/
MAHASRAMANAH YE SVAHA
This practice, a Dharma treasure (terma) of Padma Sambhava, protects you from both the illnesses troubling you now and those you have yet contracted.
Because of all my positive actions of the past, present, and future, which bring happiness, may the ultimate good heart - which cherishes all living beings and is the source of the three-time happiness of myself and others - arise in those minds where it has not yet arisen, and increase in those minds where it already has sprung.
Because of my three-time positive actions and those of all holy beings, whose attitude is the purest, may all the kind father and mother sentient beings have happiness. May I alone be the cause of this, and may the three lower realms be empty forever.

May the prayers of all holy beings - those who dedicate their lives to the happiness of others - succeed immediately, and may I alone be the cause of this.

Because of my three-time positive actions and those of all holy beings, may I achieve the peerless happiness of full enlightenment - the state of mind that is free of all error and complete in all positive qualities - and lead all others to that state.
Colophon
This healing practice was translated by Lama Zopa Rinpoche at Tara Institute, Melbourne, Australia, on September 1, 1991. The Motivational and Dedication have been added to the original text.

There is another way to protect yourself from disease. Experience has shown that diseases such as cancer and AIDS occur when your mind is obsessed with sexual desire and so forth. Because of this attachment to worldly pleasure, you create mistaken actions, which harm yourself and others and cause guilt, and as a result, cancer, arthritis, and so forth manifest. All this comes from your own mind's incorrect attitude.

Since all such problems are caused by an undisciplined mind and the actions it creates, one of the most important things you can do is to live a moral discipline. Do not deceive yourself by thinking that this is only a religious viewpoint - it is real protection.

For example, if you let your mind go crazy, your life is unprotected. Preventing your mind from going crazy is the way to protect your life. Just see how many problems plague a country where moral discipline is in short supply. The way to protect, or heal, your mind and body is to purify the causes of problems that you have already created, which lie in your mind. To do this, you need to practice one or more of the powerful purifying techniques found in Tibetan Buddhism.

There are other powerful healing buddhas such as Vajrapani and Logyunma, a female healing buddha in leaf-wearing aspect, who is well-known as an opponent of epidemic disease. I myself have seen ill people recover completely through these two practices.

Another way to bring purity into your life is to make a commitment in front of a holy being such as the Healing Buddha, or any other spiritually advanced being you choose. If you are not interested in making a commitment to enlightened beings and saints, make a commitment to all living beings. The commitment you should make is to not harm others - harming others only harms yourself as well. Commit yourself to avoid all ten non-virtuous actions, or as may of the as you can.

These Dharma methods are the only true solution. Unless you transform your mind into a positive state through either the external medicine of actions or the internal medicine of meditation, you will be constantly taking medicine and poisons at the same time.

I have added this advice because many people, especially in the West, lead such incredibly miserable lives because their minds swings repeatedly from one extreme to the other.

The Vajra Speech of the
Mahasiddha T'ang Tong Gyalpo

'The Prayer Liberating Sakya From Disease'

Translated and edited by
Bhikshu Thubten Tsultrim (George Churinoff)


Motivation
All sentient beings, equal to space, go for refuge to the precious guru-buddha. We go for refuge to the Buddha, the Dharma, and the Sangha.

We go for refuge to the assembly of gurus, meditational deities, and dakinis. We go for refuge to the empty clarity of our minds, the dharmakaya.
Recite these verses as many times as you are able.

OM MANI PADME HUM
Recite this mantra hundreds of times, as many as you are able.

Then:

May all the diseases that sadden the minds of sentient beings that result from karma and temporary conditions, such as the harms of spirits, illnesses, and the elements, not occur in the realms of the world.

May whatever sufferings there are from life-threatening diseases that, like a butcher leading a being to be slaughtered, separate the body from the mind in a mere instant, not occur in the realms of the world.

May all embodied beings be unharmed by acute, chronic, and other infectious diseases, the mere sound of whose names terrifies beings, as though they had been place inside the mouth of Yama, the Lord of Death.

May all embodied beings be unharmed by the 80,000 classes of harmful interferers, and 360 evil spirits that harm suddenly, the 424 diseases, and so forth.

May whatever sufferings there are due to disturbances of the four elements, depriving the body and mind of every pleasure, be totally pacified, and may the body and mind have radiance and power and be endowed with long life, good health, and well-being.

By the compassion of the gurus and the Triple Gem, the power of the dakinis, Dharma protectors, and guardians, and by the strength of the infallibility of karma and its results, may these many dedications and prayers be fulfilled as soon as they are made.
Colophon
Once an epidemic was spreading from one person to another at the great monastery of the Glorious Sakya (tradition). Whatever the mantric masters tried - effigies, tormas, medicines, mantras, protextion-amulets, and so forth had no effect, and the monastery was in danger of annihilation. At that time, the master Mahasiddha (T'ang Tong Gyalpo) performed the 'Space' refuge, recite a number of Manis, and proclaimed this prayer called "Attainment', during which the entire epidemic immediately ceased in dependence upon its performance. Thereby, it became renowned as the vajra speech radiating masses of clouds of blessing entitled 'The Prayer Liberating Sakya from Disease'.
Sarvamangalam
Dedication

GE WA DI YI KYE WO KUN / SO NAM YE SHE TSOG DZOG TE
Through this virtue, may all beings gather the accumulations of merits and awareness.

SO NAM YE SHE LE JUNG WAI / DAM PA KU NYI THOB PAR SHOG
May they attain the two Supreme Kayas which arises from merit and awareness.

JANG CHHUB SEM NI RIN PO CHE MA KYE PA NAM KYE GYUR CHIG
Bodhicitta is precious. May those who have not engendered it, engender it.

KYE PA NYAM PA ME PA DANG GONG NE GONG DU PHEL WAR SHOG
May those who have engendered it, not destroy it. May it ever grow and flourish.